Aerial silk – female aerial stunts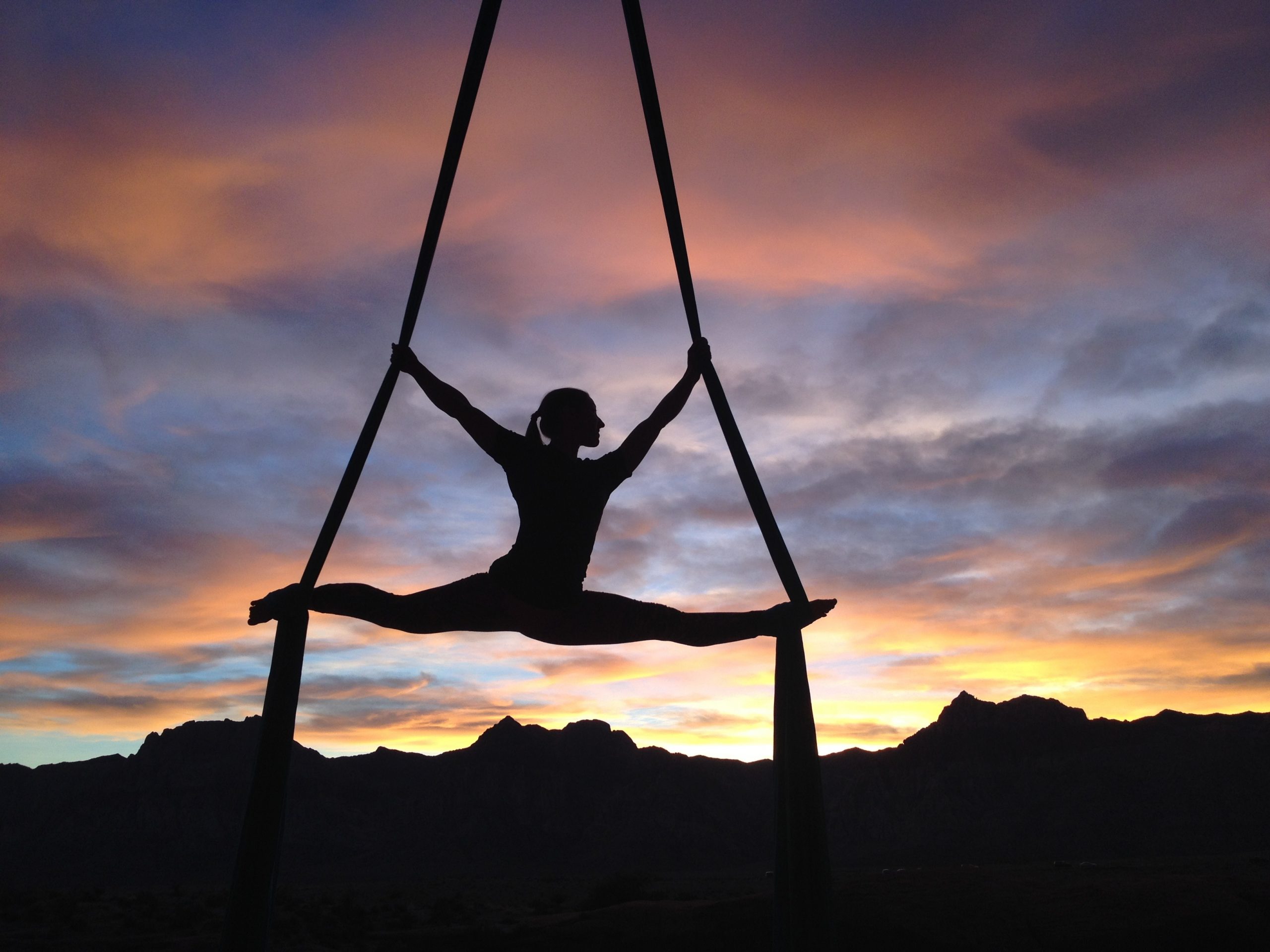 1017 Odsłon
30 June 2021

You need about 3 min. to read
Aerial silk is an activity which has recently enjoyed considerable popularity. It is an acrobatic dance performed in the air with the help of special sashes suspended at a height of about 12-16 meters. What are the activities of this type?
Aerial silk – what is it?
Aerial silk is a form of activity which will appeal to all lovers of dance, acrobatics and gymnastics. This type of activity consists in tying the body, arms and legs with special sashes. This allows you to perform extremely spectacular acrobatics in the air, such as twine.
What is the history of aerial silk? Its creator is Andre Simard – an acrobat who joined the Cirque de Soleil group in the late 1980s and began introducing various types of spectacular stunts to circus shows. The sashes made their debut there in 1995.
Pros and cons of aerial silk
Why should you try your hand at aerial silk? This type of activity helps strengthen muscles and improve agility, flexibility and body awareness. It is also a proven way to stretch intensively and improve psychophysical condition. Beginners can burn from 300 to 500 calories during one hour of aerial silk classes. In the case of advanced, it is even 700 calories.
And what are the disadvantages of aerial silk? At the beginning you should expect that the workouts will be painful. This is due to the use of strong bindings. They make blood flow out of the limbs, which results in pain and numbness. Equally often we have to deal with bruises, abrasions, corns and burns. The main contraindications for aerial silk exercises are: postural defects, spinal injuries, epilepsy, hypertension, and pregnancy.
Necessary equipment for aerial silk
How should I dress for aerial silk classes? The ideal outfit for a workout of this type is long leggings and a long-sleeved T-shirt or bodysuit. The clothes should be flexible enough not to restrict your movements. Aerial silk is practiced without socks, which makes it easier to feel the sash.
People who want to practice aerial silk at home should buy a special vertical sash. Its length is usually chosen for a given room. Ideally, it should be twice its height with one meter of additional reserve. This will allow you to perform individual exercises freely. The optimum width of such a sling is at least 170 centimeters. When choosing a sling, special attention should be paid to the material it is made of. This is due to the fact that during such training, the body resists the force of gravity and overcomes very heavy loads.
It is also important to attach the sash to the ceiling. Beginners should decide to buy a slightly wider sling, which will allow you to oppose your own weight and create stable loops around your limbs. The result – an even distribution of forces and no problems with pinching or restriction of movement. Belaying and proper body positioning plays a particularly important role in case of falls and exercises performed in an inverted position. A wide sling is also a good solution for all those people who do not feel confident at heights. It will allow you to have a firm grip and quickly catch your balance when performing new exercises.
Featured photo: pxhere.com