Time for spring activities! How to start adventure with inline skates?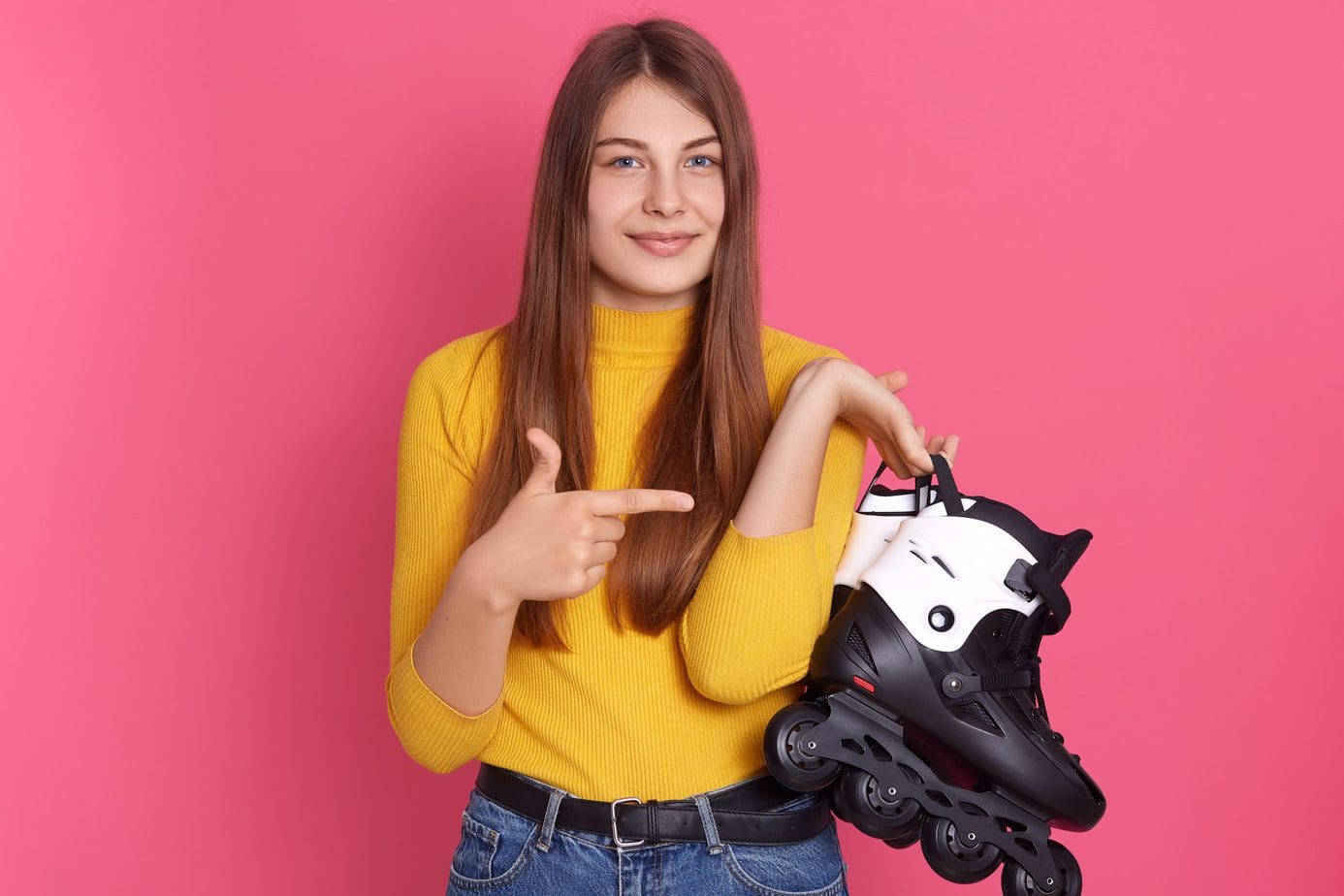 812 Odsłon
26 April 2021

You need about 4 min. to read
The change of season is the perfect time to start a new outdoor physical activity. One of the most popular forms of outdoor sports is rollerblading. Where to start?
Choice of equipment
Roller skating should start with choosing the right equipment. People beginners of this type of activity should first buy protection, which will protect against injuries. The basis is a helmet, which in case of a fall protects from serious head injuries. An additional piece of equipment should be knee, wrist and elbow pads, so that in case of a fall you can avoid unpleasant wounds or scratches.
It is equally important to choose the right skates. The best way will be a visit to a store with sports equipment and advice from the seller, who will advise which models will work best at the amateur level. When choosing rollerblades, you should pay special attention to their bearings, airiness, weight and size, as well as the size and hardness of the wheels.
The size of the insole of roller skates will differ from the standard size of shoes, because the foot performing various movements during the ride must have only a minimum of slack. The correct size also allows for a more stable ride, better balance and protection of the ankle from painful sprains.
Which skates to buy? With hard shell or soft boot? Guide

#bladeville #skates #powerslide
Which skates to buy? Hard shell or soft boot?

Instructors Paulina Cwynar and Marysia Brzezinska from Roll4all will explain why you should choose hard-shell skates.

Instructor: https://www.iloverolki.pl/instruktor/paulina-cwynar
Instructor: https://www.iloverolki.pl/instruktor/maria-brzezinska
School: https://www.iloverolki.pl/szkolka-rolkowa/gdanskgdyniasopot

Subscribe to our YT channel: https://www.youtube.com/channel/UC-DPJl884LMLGKbC2kJM7mA?sub_confirmation=1

Published by Bladeville Friday, July 3, 2020
Developing a route
An important part of preparing for beginning rollerblading trips is to thoroughly familiarize yourself with the route. Some of the roads may be too challenging for new riders. Areas containing hills, ramps, uneven pavement, steep descents, or a large number of climbs are not advisable. Also, populated parks or residential roads near a busy street will not work well, as coordination may be a big problem at first. More nearby pedestrians or riding next to the street increase the risk of losing control and bumping into bystanders or having an accident.
Before your first ride, it's a good idea to look for nearby places that have suitable conditions. Wide bicycle roads with even surface, preferably on flat terrain, possibly far away from people, will be suitable. When you start your adventure with rollerblades, you shouldn't decide for long and tiring routes. Such physical activity is an intensive effort, especially for an untrained body, so coming back home from far away can be a problem, and yet skating should be a form of pleasant recreation.
Learning to skate
The way to master the technique of in-line skating is not demanding, but it requires regularity and help of another person. There are two ways of learning. In the first variant you can use private lessons or skating school. In each of the larger cities there is certainly an institution or a coach that will help you learn. Roller skating lessons are not expensive or tiring, and can prove to be extremely enjoyable and effective.
The second method is to take advantage of the knowledge and skills of those around you. Roller skating is a popular physical activity, so it is easy to find a friend or family member who has mastered this art and will agree to help. Learning together can be a great opportunity to socialize and spend free time actively.
Systematic training
Roller skating, like any other skill, requires regular practice. The beginnings of learning can be difficult and end with many falls, that is why you should find motivation in yourself and not give up too fast. When practicing roller skating, remember that it should be mainly a way of spending free time actively and for fun.
Appropriate attitude will help to overcome initial difficulties and will accelerate learning process. Rollerblades are quite intuitive equipment, so training should not be physically demanding and should be a lot of fun. It takes time to master the technique, control, and confidence while skating, so you should spend a few hours a week practicing.
READ ALSO ➜ Way to active entertainment and burn unnecessary calories. Why should you rollerblade?
Featured Image: Freepik