Purifying ginger bath – a winter detox with a soothing note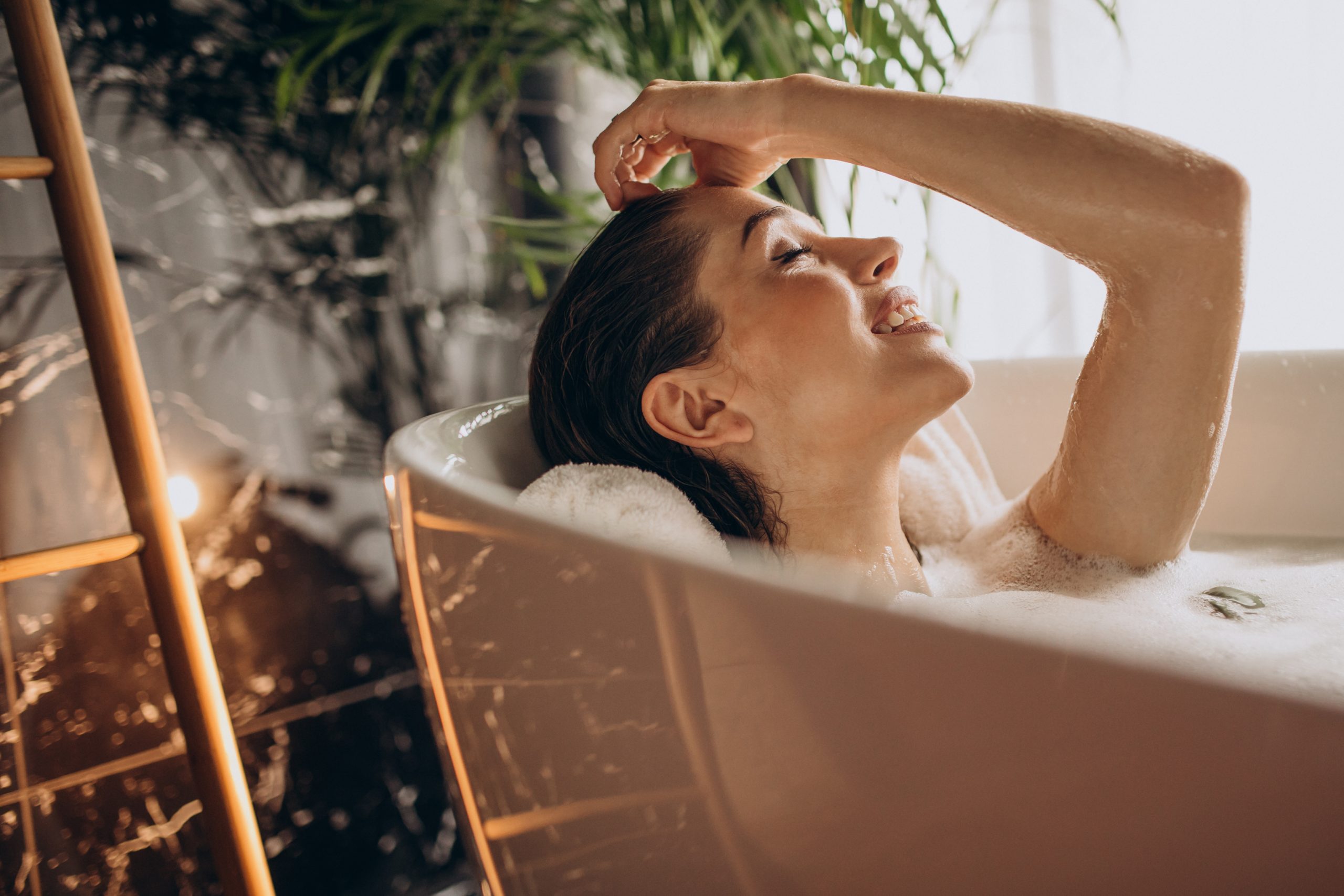 1225 Odsłon
25 March 2021

You need about 5 min. to read
The popular spice often appears in warming drinks and ingredients in typical Indian dishes. Meanwhile, the Chinese use it to create a relaxing bath perfect for the winter season.
A hot bath is one of the inseparable elements of the winter season. This form of relaxation soothes tired muscles, relieves stress, reduces feelings of exhaustion and calms thoughts. Typically, a winter bath is accompanied by scented candles, a glass of wine or favorite essential oils. However, it turns out that the pleasant habit of bathing can be combined with the health-promoting nature of natural medicine. The concept of adding ginger to a hot bath originates from China and has been used there for several hundred years. Nowadays, the tradition has come to the Western world and is gaining popularity, among lovers of home remedies for unpleasant ailments. Ginger bath has many advantages and a visible beneficial effect on the functioning of the human body.
An Asian tradition
The ritual of preparing ginger baths comes from ancient China. The spice is used there not only for culinary but also for medical purposes. In addition to herbal medicine, specialized infusions or medicinal tea compositions, ginger is also used in health care baths. Hot water with ginger root belongs to natural healing methods and, according to experts, is one of the most effective ways to treat many everyday ailments, including insomnia.
The idea for this use of ginger comes from the Chinese concept of Qi, according to which two types of energy are needed to achieve life balance: yin and yang, or warming and cooling. The cold energy is provided by the season of low temperatures outside, so the warming element should be supplemented by a ginger bath. Regular use of ginger baths improves mood, supports proper body function and makes it easier to fall asleep.
Effect of a ginger bath
It is commonly accepted that a hot bath is a relaxing element, it relaxes muscles, relieves backache, joint pain or headache and helps to calm down. Ginger is a spice which warms, acts anti-inflammatory, supports metabolic processes and the digestive system, cleanses from harmful substances and also gets rid of bacteria and viruses from the body. Ginger bath positively affects the appearance of the complexion and skin, unblocks pores, soothes irritation and smoothes the epidermis. Moreover, it improves blood circulation, supports the immune system, relieves muscle or joint pain and reduces inflammation in the body. When used to prepare a bath, ginger has a detoxifying, warming, relaxing and renewing effect. Additionally, the bath soothes such ailments as nausea, insomnia or migraines. The nutrients contained in ginger help to relax, have a calming effect, make it easier to fall asleep and ensure a deep and restful sleep.
How to prepare the bath?
To create a Chinese bath, you can use either powdered spice or freshly grated root into thin slices or shavings. After pouring into a tub of hot water, pour three tablespoons of ground ginger or half a cup of fresh product. According to specialists, it is better to use natural ginger for the preparation of the bath, since after processing the spice can lose some of its nutritional value. To strengthen the cleansing effect on the body, you can pour a glass of apple cider vinegar into the bath. Ginger gives off quite a specific smell, so enthusiasts of the Asian tradition recommend adding ⅓ cup of sea salt or essential oil to the bath, which eliminates the unpleasant smell. If you decide to take a bath according to the traditional Chinese recipe, you should remember to hydrate properly, because the ginger contained in the water has a dehydrating effect. It is recommended to drink as much liquid as possible before, during and after the bath.
Why did the Chinese make ginger baths their ritual?

In China, the custom of ginger baths has been practiced for centuries. Ginger is used there for both culinary and medicinal purposes. But that is not all
for the Chinese, the warming properties of ginger are very important. This has to do with their traditional concept of yin and yang, rooted in ancient Chinese philosophy, which describes the opposing elements that, when combined, produce balance and harmony.
What are the benefits of a ginger bath?
Bathing in ginger improves circulation, strengthens the immune system, relieves muscle pain and restores our balance. By increasing sweating, it also has a detoxifying effect.
Ginger should be used in the winter season if we have a cold, aching muscles, cold shakes. It has a warming and anti-inflammatory effect on bacteria and viruses.

How to prepare and use it?
Pour three tablespoons of ground ginger, one-third of a cup of sea salt and add a few drops of your favorite essential oil, such as lavender, orange, to a bathtub filled with hot water. To strengthen the effect of the treatment we can also pour a glass of apple cider vinegar or almond oil. I encourage you to take such a bath. Share in the comments what feelings and effects you had. I am very curious ? #Thanks for the wonderful atmosphere and warm welcome ❤️ @julia.deja @marzena_rogalska @pytanienasniadanie @dorotaszafarowska #effects #bath #imbir #medicinenatural #cosmetologist #water #oils #relax #health #balance

Published by DorotaSzafarowska.co.uk Friday, January 15, 2021
Featured Image: Freepik